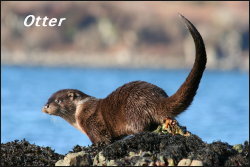 Well here I am back home again after seventeen days on Islay.
The first week provided some good weather for October but the last week has been dull and mild with one day raining all day – an unusual event for Islay.
There has been a continuous passage of Whooper Swans through Islay with some family parties not even touching down and flying straight on to Ireland. Not a bad feat after flying non stop five hundred miles from Iceland at 40mph!
Islay is always a brilliant place for raptors and on one day I saw five Hen Harriers on my travels around the Island but this time failed to see any Golden Eagles. The highlight was disturbing a Hen Harrier and a Hobby fighting one morning at dawn. The Hobby is a very rare visitor to Islay and late October is not the time of year you would expect to find one.
Ardnave is always one of Islay's most popular places to visit and walk around and during my visits two Snow Buntings and three Slavonian Grebes were seen as well as thirty plus Chough feeding in the high tide seaweed.
In the very mild Autumn weather forty two species of flowers were found which is an incredible number for November – global warming perhaps?
I only went looking for Otters once and found two in the Sound of Islay. One of these climbed a rock to spraint and then entered a cave to sleep.