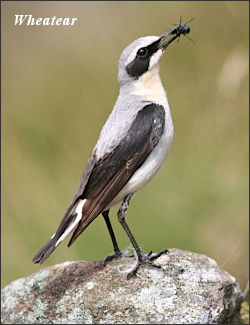 High pressure has dominated all week producing dull, cloudy and calm conditions. With only a light southerly wind there has been no further influx of Redwings and Fieldfares.
On the local Golf Course the Green Woodpecker is still very vocal especially in the mornings. Reed Buntings and Grey Wagtails are still present and even better a Dipper was feeding along the stream on the 13th – only the second in the area in the last twenty years. Better still occurred on the afternoon of the 11th when a bird feeding under some pine trees turned out to be a female Wheatear, the latest record I have for a passage Wheatear.
There has been considerable activity in the garden with a record count of nineteen Goldfinches on the 8th and then today, the 13th, a new bird, in fact not one but two Nuthatches feeding all afternoon. It's taken them thirty nine years to reach our garden!
With a talk in Leek during the week I was able to watch over the North Staffordshire moorlands one evening and had a good view of a female Goshawk and one hundred fieldfares going to roost in a pine forest – perhaps Winter is just around the corner.