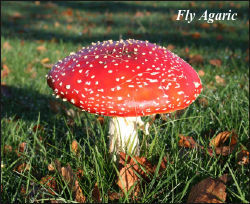 As if to prove me wrong after last weeks prediction of no Fieldfares for a fortnight two arrived over the Golf Course on the 3rd – the earliest I have had locally in thirty nine years.
All the Swallows have now gone but there are still Willow Warblers and Chiff Chaff in Hopwood woods. In addition an encounter with a flock of thirty Redpolls was a nice bonus , watching them feed on the tops of some birches. Two Green Woodpeckers have been very vocal in the early morning on the Golf Course. Also on the Golf Course the first Fly Agaric has appeared and I would expect much more to follow in an Autumn that has produced an abundance of fungi.
In the garden the Goldfinches have now increased to a new record of sixteen.
Today has been a perfect Autumn day being calm and sunny with a temperature of nineteen degrees. A walk around Ogden reservoir produced two Great Crested Grebes, fifteen Long Tailed Tits and good views of the usual Little Owl – stood watching the Sunday walkers pass by.