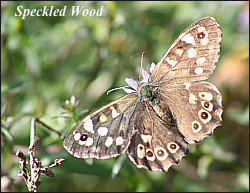 After some good late Summer weather there has now been a change and in the last week we have had two days of heavy rain.
Filming has ground to a halt with the party of Kingfishers I was working on now dispersing and proving illusive and despite baiting the foxes none have appeared when I was ready to film. The only good news is that two Green Woodpeckers have been around for the last couple of weeks and hopefully may stay to breed next year.
The last brood of Swallows has now fledged from the Golf Club after the most successful season ever. At least fifty young have been reared at the Golf Club and whether they make it to South Africa and back for next year remains to be seen.
It continues to be a poor year for butterflies, with Speckled Woods being the most numerous at present with the odd Peacock and Small Tortoiseshell feeding on Scabious.
Birds are now returning to our garden, with a maximum of twenty three House Sparrows, nine Goldfinches and three Wood Pigeons. A female Sparrowhawk appeared briefly.
If the wind moves to the North then we can expect the first Redwings to appear with Fieldfares following early next month.