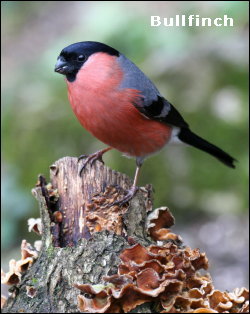 After last weeks rain we have at last had some good Winter weather with two sunny days and a low of minus five degrees centigrade one morning.
The Goosanders at Rhodes lodges increased to forty five then to sixty which is my record count and was particularly impressive as fifty were on one lodge! Ice cover the day after reduced this to twelve but just to make up for it two Kingfishers were present that day.
Both Woodcock and Green Woodpecker are present at Hopwood with a Kestrel hunting each day. A Buzzard was over Tandle Hill, rising in the sunshine but still mobbed by a Magpie.
I don't normally go twitching birds but a Great Grey Shrike on Waddington Fell sent me up there on one sunny morning. No sign of the Shrike but a male Merlin and four Kestrels made up for it.
The garden has proved good as well with thirty five Goldfinches in the back trees one morning – more than double our previous highest count, eighteen Greenfinches is also a high and the re-appearance of a pair of Bullfinches has brightened up our garden birdwatching.